HIDDEN INSTINCT'S COYOTE TOUR
Garrett Carr and Micah Fey of Hidden Instinct set out on December 1, 2018 with a goal of 100 coyotes in 30 days. Hunting western states, living out of their truck, and crashing couches, they set stands in 5 states including Utah, Nevada, Idaho, Wyoming and Colorado, and documented each day of their tour.
Every video has the hunts of the day as well as a daily tip for every hunter to better their coyote game. Buy any Hidden Instinct gear and they give 10% back to Take 'Em Hunting Outdoors. Scroll the videos below to see how they did on their coyote tour.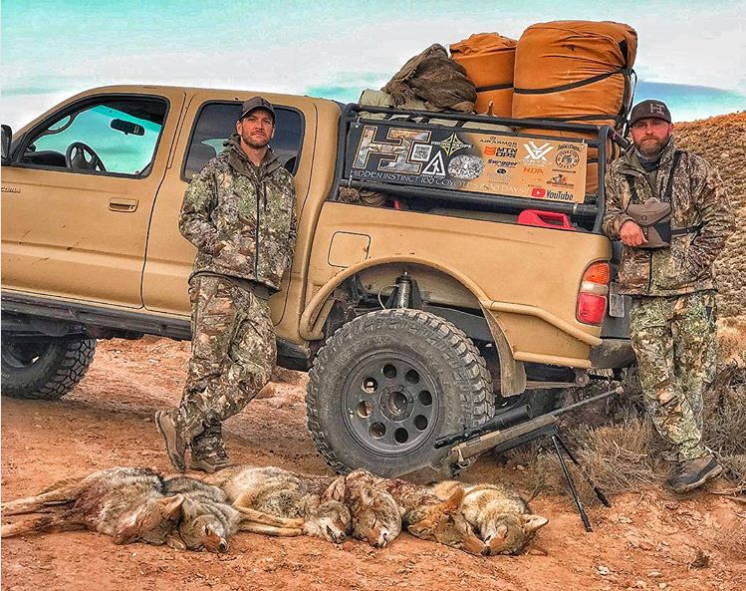 Day 4: "Biggest Coyote Ever!"
Day 6: "Odie Is A Bad A$$"
Day 7: "Too Many Coyotes!"
Day 8: "Shed Crazy Is Now Coyote Crazy"
Day 10: "Started Out Strong!"
Day 11: "The Curse Of The 3 Continues"
Day 12: "Called In More Deer Than Coyotes"
Day 13: "Windy And Foggy"
Day 15: "The Half Way Point"
Day 17: "Quick Afternoon Hunt"
Day 19: "Wide Open Country"
Day 20/21: "Bad Luck Or Bad Weather"
Day 24: "Coyotes And Cats"
Day 27: "Recap Of The 100!"
Day 28: "Windy Day Double"
Day 29: "The Weatherman Was Wrong"
Day 30: "Ups, Downs, Good, & Bad"
Coyote Tour Gear Breakdown