Womens Hunting Gear & Casual Wear
Kings is serious when it comes to camo, and women's clothing is a big part of that. Whether you're on a hunt or simply staying comfortable, we want you to have access to the patterns and styles that suit you and the occasion.
Gear That Gives You the Edge
Women's camo clothing from Kings includes both XKG and Hunter Series - all delivering the ultimate in concealment and all tailored for female hunters. Women's casual wear keeps you in style and comfort on other pursuits. Kings is right for where, when, and how you hunt. 
High-Tech Fabrics for Hard-Use Situations
Whether you're talking about extreme weather, rough terrain, or physical exertion, hunting gear for women needs to perform. Kings uses high-tech fabrics with Polygiene Odor Control Technology that reduces odors and works in layers to keep you warm.
Shop Women's Camo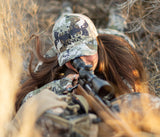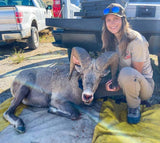 Kings Conservation
Hunting ethically and conserving habitat to keep wildlife populations healthy is a responsibility we take seriously at Kings. We partner with nonprofit organizations prioritizing preservation in Utah and beyond.
Learn About Us
Yes. Kings uses the same fabrics, the same camo patterns, and the same factories to produce all of its products. The difference between men's and women's clothing is solely in how the items are cut and sized.
The foundation for building a hunting kit starts with the pants. King's provides two styles of women's hunting pants — XKG Ridge Pant and Hunter 2.0 Pant. The XKG Ridge Pant is lightweight, protected with Polygiene, built with stretch poly fabric and a stretch waistband for increased comfort. The Hunter 2.0 is a 100% lightweight polyester functional hunting pant built as a budget friendly option to get your kit started.
If you're dissatisfied with your Kings gear for any reason, you can return or exchange it within 60 days of purchase so long as it is in new condition with its original packaging and the tags still attached. There is a flat $6 shipping fee.
Have Other Questions? Contact Us!