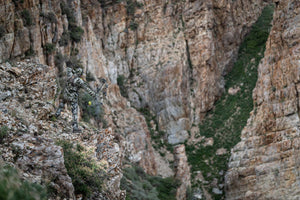 XK7
Inspired by the natural colors and terrains of North America hunting environments, we strategically designed a selection of 7 different shapes and textures that are abstract depictions of realistic elements - keeping you hidden, no matter the distance.
Abstract Pattern Breakup
XK7 Design
We built XK7 with inspirations from naturally occurring elements. Then added an overall light tone to help you blend in and stay concealed - no matter the distance.
We've tested it all over and whether you are hunting desert terrain or above timberline, XK7 maintains it's effectiveness everywhere.
Exclusively available in XKG Series and Women's Series.
Abstract Mimicry
Our new approach uses our original patterns strengths of contrast and natural color and pairs them with a detailed macro and micro philosophy that will improve the breakup of your silhouette and achieve a high effectiveness in a variety of hunting applications.
Women's Series
This highly effective pattern is available in both Women's XKG & Hunter Series giving our women hunters a wide variety of clothing options.
Contrast & Depth
Drab natural colors blend in with nearly all terrains and will disrupt your appearance and help you stay hidden at 10, 100, or 1,000 yards.
Questions?
Do you have questions about camo patterns or need help choosing the right one for your next hunt? Drop us a line below.